Nursery
Our production is situated on over 50 production sites in Serbia and Bosnia formed as a plants nursery production chain and agricultural cooperative that is represented by Economic Cooperative Serbia [Econom Cop d.o.o.].
As producers we are implementing the latest technology and know-how in plant growing, always adapting to the best practices in nursery production and customer demands.
Production of fruit trees is a tradition in Serbia and Bosnia and some of our cooperative fruit tree nurseries have experience of more than 50 years. One of the main points of our success is sharing experience and knowledge between our production chain achieving standardized and high-quality planting material.
Our production is more than 5.000.000 fruit trees [standard and mini fruit plants], nearly the same amount of berry plants per year, 2.000.000 grafted grape plants, and around 2.000.000 rose plants on 200 ha [494 acres] of land
For professional and industrial fruit growers we are producing two-year-old apple trees by ´KNIP´ [knip-boom] or tall spindle system, allowing the fruit producers to reach substantial yield in the first few years and reach the full yield earlier. Production of knip-trees takes at least two years to produce and it is necessary to agree with us in advance on the details of your order including the type of rootstock, variety and other details.
We at Economic Cooperative as a fruit tree, berry, rose plants producers from Serbia and Bosnia supply you with carefully selected, safe and certified nursery material with Phyto, health and all other required certificates and documentation.
We produce following FRUIT TREES and PLANTS:
Apples [Including apple Knip tree / Knip-Boom / Tall Spindle apple tree system]
Pears
Plums
Peaches
Apricots
Nectarines
Sour Cherries
Sweet Cherries
Quinces
Medlars
Soft Fruit (Raspberries, Blueberries, Cranberries, Lingonberries, Aronias, Blackberries, Currants and similar)
Hazelnuts, Walnuts, Almond …
Mini Fruit Trees (Peaches, Nectarines, Apricots, but soon other as well)
Patio Fruit Trees (Apples, Pear, Sour Cherry, Sweet Cherry, Plums ...)
other plants as well
GRAFTED GRAPEVINE including:
Table grape viness
Wine grape vines
ROSE PLANTS including:
Floribunda rose plants
Climbing rose plants
Miniature rose plants
Hybrid tea rose plants
We also sell and distribute a wide range of ORNAMENTAL PLANTS:
Deciduous shrubs
Shrubs and conifers
Deciduous trees (avenue trees)
Perennials
Ornamental grasses
Ericaceous plants
other ornamental plants
We export to markets of the European Union, Asia, and Africa, providing all necessary service that follows the export process.
See our full assortment of plants we have in our offer.
KNIP / KNIP-BOOM / SPINDLE APPLE TREE SYSTEM
KNIP or "knip-boom" is one of the most productive and best-known apple tree training systems for modern, professional and industry grade apple orchards. A KNIP apple tree is produced as a 3-year-old rootstock with a 2-year-old grafted apple variety and 1-year-old side-branches. The shape of a "knip-boom" tree is in the form of the main leader and multiple pre-formed lateral branches going outwards at a high angle, lower branches being longest and get shorter going up the top. The lateral branches are at least 20 cm in length, and the tree itself is 1,5 up to 2,20 m in height.
KNIP trees are produced by bench-grafting the selected apple variety onto selected 1-year-old rootstock and cut back "kniped" after nursing them for 1 full year. When branches start to grow the main leader is formed in the following year, together with cutting the excess lateral branches that overlap or are not going to be productive enough, pinch pruned and treated with phytohormones, all to achieve the recognizable cone shape formation of "knip-boom" tree with side branches on ideal height going outwards at a high angle so that the bending and tying of branches is not necessary. Knipboom trees are classified by the number of fruit-bearing side branches as 3+, 5+, 7+.

KNIP formed apple trees give fruit in the first year after planting (but not significant), and in the following year it is starting to give substantial yields, and up to full yields in the third and fourth year depending on overall conditions and technical measures taken in the apple orchard.
Some of the usual distances of trees in the apple orchard for a "knip-boom" system are 2,9-3,6 x 0,7-1,2 m depending on the terrain and MSL of a planned orchard. This can amount up to 4900 of apple trees per hectare.
Through modifications of this apple tree training system as a Slender Spindle or a very intensive Superspindle it is possible to obtain full and bigger yields very early, but only together in great accordance with all technical elements of growing apple trees like: spacing of plants in the orchard, climate zone, soil composition, agricultural technical measures, rootstock clone and fruit variety itself.
This system can be tailored to different varieties, but also to different species of fruit. The knipboom system is a long proven and adopted the practice in the fruit industry producing high and early yields and also a long exploitation life of an orchard.
Our apple KNIP apple trees incorporate knowledge, technical skills, raw materials, labor force, a substantial amount of time and thus producing a high-value fruit tree product for a professional and forward-looking apple producer.
We at Economic Cooperative invite you to get in contact with us as we are open to discussing a long-term production of KNIP apple trees to fulfill your detailed specification, industry standards, and production goals.
Welcome.

Wholesale
Our business at Economic Cooperative is mainly wholesale of fruit trees and plants, rose plants, grapevine plants, ornamental plants, but other plants as well. Our clients include commercial fruit producers, large fruit growers [current and future], international wholesalers and distributors, retail trade chains, exporters, individual producers, and others in Serbia, European Union (EU), Russia, other Asian countries and other countries all around the world.
Production of fruit trees, berry, and rose plants requires planning activities and projecting the market at least 2 years upfront. If your plants market or orchard investments require large quantities of plants and if you are planning a continuous supply, it is always better that you inform us about quantities and other specification of plants in advance. This way, we at Economic Cooperative are able to produce seedlings exactly as you wish and provide you with the best quality of planting material.
The usual practice in the production of plants, as in commercial fruit growing, but also in trade chain supply, is to have an estimated or designed plan with approximate or exact quantities of plants for next year or at least for next season (spring or upcoming autumn). Together with you, we are able to be precise with the required quantity of plants and we can produce exactly what you are looking for.
We are also supplying wholesale quantities of plants at the moment of your inquiry.
Economic Cooperative main business goal, as is also to our buyers, is the quality of product and service. In that, we personally strive in building relationships based on mutual trust as a base for prospective long-term business. Having this in mind, we at Econom Cop d.o.o. aim to the fulfillment of customer's requirements and interests according to buyer's sales politics, and equally, a mutual fulfillment of all points of the agreement and contract as well.
We at Economic Cooperative invite you to get in touch, talk about possible business solutions and points where we can establish mutual interest and cooperation.

Export and Distribution
We at Economic Cooperative have over 10 years of experience exporting to more than 20 countries around the world and sales of 5 million pieces of plants annually.
Economic Cooperative's successful distribution is accomplished by our entrusted network of distributors, partner companies across Europe, Asia and Africa and our personal involvement in every step of distribution and export process, as well as our insight of laws and regulations in countries in which we do our export for best delivery possible.
International transport companies with experience in refrigerated transport and logistics, with which we at Econom Cop d.o.o. have a long relationship and trust, know our specific needs and requests, and assure the delivery of plants on time and meeting our personal specifics of handling and storage in precise temperature regimes and humidity.
Since we at Economic Cooperative understand and care about our final customers, we are focused on the distribution process as soon as the first order is being placed. In our packing facilities and warehouses in Serbia and Bosnia, team of experienced workers are carefully preparing, packing and loading fruit plants, berry plants, rose plants and ornamental plants either loose, on pallet boxes, or cc trolleys all depending on the size of plants, quantity and specific requests as well as our standard for safe and reliable transport of plants.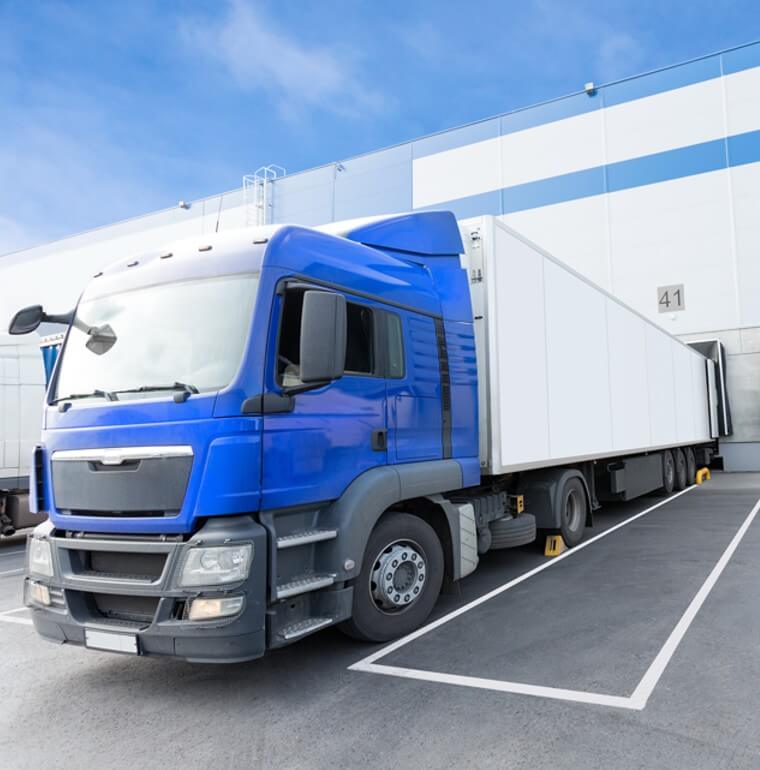 Package and marketing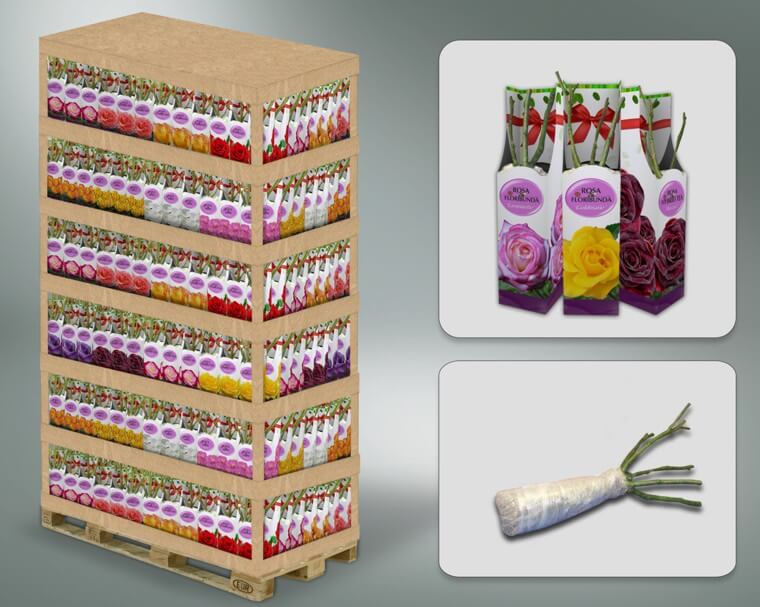 We at Economic Cooperative are dedicated to fulfilling the demand of our international customers and the growing market of fruit plants, rose plants and ornamental plants.
We offer fruit plants, berry plants, rose plants and other plants in our assortment packed as:
bare-root
packed roots in a root ball (roots packed in wet sawdust and PVC foil)
roots in a root ball and packed in a PVC or jute bag
only packed in a PVC bag with wet sawdust
packed root ball in designed cardboard boxes packaging
containers (in various sizes), and multi-trays
in agreement with the customer
We provide the service of designing, printing and packaging of our fruit plants, berry plants, rose plants and other plants in our assortment according to the needs of our international customers and market resellers.
We can provide the service of printing your brand logo on our packaging, necessary declarations, EAN-codes, and any information according to the needs of your market and agreement. We have a team of graphic designers and printers available to us at any given moment for a full and swift service.
Packaging is redesigned every few years to keep the product appearance fresh, attractive and innovative.
Packing of fruit trees, berry and rose plants is being handled in our packing facilities in Serbia and Bosnia where our trained workers are packing and preparing the products for shipment.
We as a team are open for negotiating on all ideas that can help you place our product on your market and we encourage you to contact us for any questions and propositions.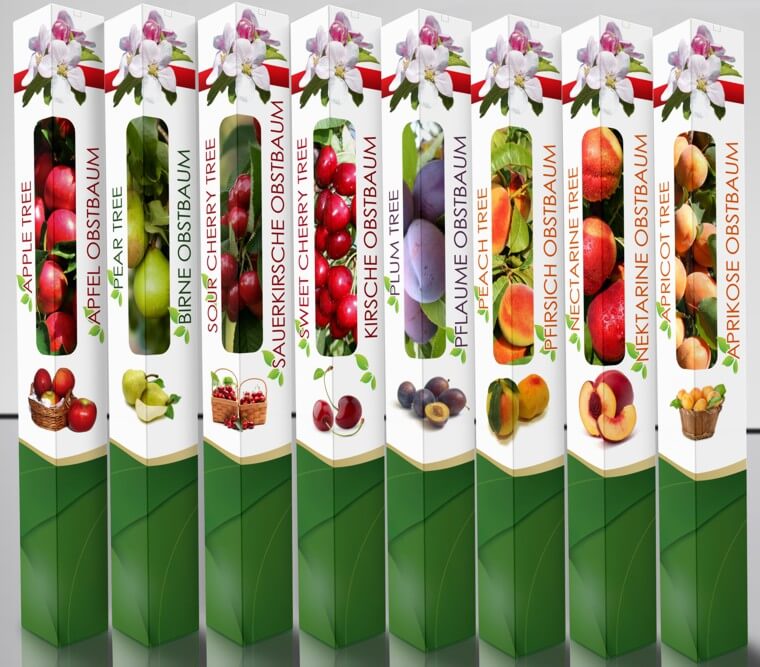 Quality
Our production is of the highest quality, standardized, and we are implementing the latest technology and know-how in plant growing. Our buyers receive fruit trees, berry plants, rose plants, and other plants of best quality produced by EU regulations, providing all necessary documents.
Fruit trees are produced as good quality planting material and can be either VF (virus free) or CAC (standard) quality of trees, all of them are healthy, controlled and analyzed a couple of times during the year by the side of the Institute for Plant Health and Environment [Under the regulation of The Ministry of Agriculture, Forestry and Water Economy of the Republic of Serbia and Plant Protection Directorate].
To assure the best quality and required quantity it is in mutual interest to let us know and inform us before the season about your inquiry including: varieties, types of rootstocks, the size of plants, number of branches, type of package and similar requests, so that the selection, preparation, and deliveries of plants can be done precisely and on time.
Our main motivation in Economic Cooperative is producing high-quality fruit trees, berry plants, rose plants and other plants and establishing a recognizable name in fruit plants supply for professional and hobby growers, and growing business relations with our partners all over the world.
We invite you to visit us in our nurseries and assure yourself of the quality and standards we provide for our customers' on the international market.